Abbot Tryphon: Divine Flame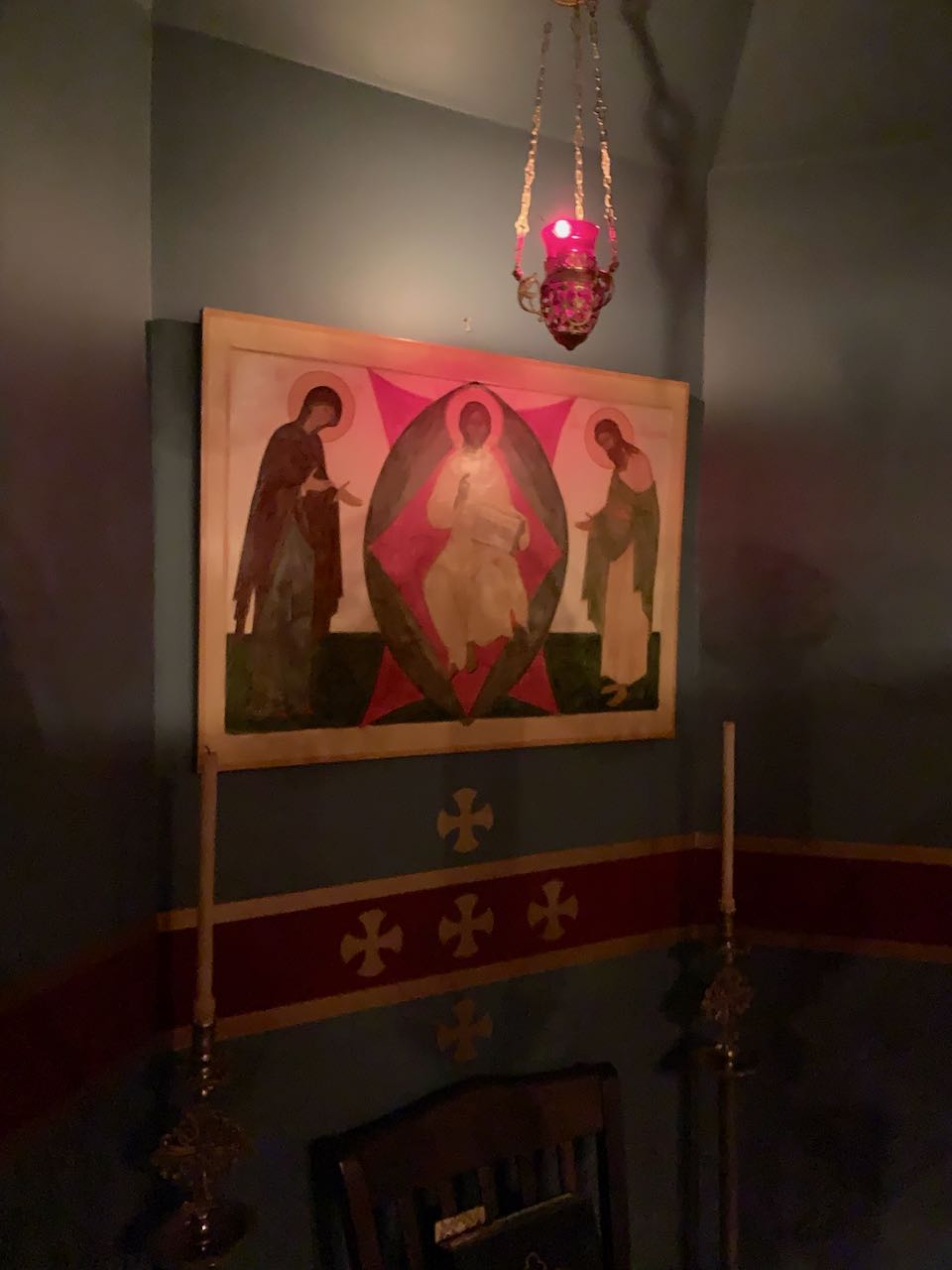 The Divine Flame will Consume Us
At the very first moment ​we​ decide to turn to God, our heart begins to be warmed by the action of the Holy Spirit. ​O​ur heart is kindled with the divine flame that will transform ​us​. This flame will consume ​us completely, and will melt everything of a fallen nature within ​us. Once this flame of divine love has been actualized within our heart, ​we must ​do nothing that would allow it to be extinguished. ​We must c​ooperate with the Fire of God, and let it completely consume ​us.
​We should put all our effort into this spiritual transformation that is beginning in our heart. ​We must l​et nothing else take center stage over this action by God that is meant to save ​us, and make ​us complete. From a little flame, this fire will burn in our heart, and nothing of our fallen nature will be able to withstand it. This flame will transform our whole being, for the action of the Holy Spirit will take ​us​ into God's Kingdom, which resides within ​us.
Love in Christ,
Abbot Tryphon
---
A Request
I am still hearing from individuals who are wondering why I am no longer writing my blog articles. Many simply do not know that it is not I who have backed away, but the people at Ancient Faith Ministries who decided to ban me. Would you please let your friends and family know that I am now hosting my own blog page. Let them know they can find me at:
One of my monks is working on getting me a site where I can restart my daily podcasts. I'll keep you posted.
Monday November 8, 2021 / October 26, 2021
21st Week after Pentecost. Tone three.
Holy and Glorious Great-martyr Demetrius the Myrrh-gusher of Thessalonica (306).
Commemoration of the Great Earthquake at Constantinople in 740 A.D.
Venerable Theophilus of the Kiev Caves, bishop of Novgorod (1482).
Martyr Luppos (306).
Venerable Athanasius of Medikion Monastery (814).
Venerable Demetrius of Basarbov in Bulgaria (1685).
Venerable Demetrius (14th c.).
St. Anthony, bishop of Vologda (1588).
St. Cedd, bishop of Lastingham (664) (Celtic & British).
St. Eata, bishop of Hexham and abbot of Lindisfarne (686) (Celtic & British).
Martyr Ioasaph, monk of Mt. Athos, disciple of St. Niphon of Constantinople (1536) (Greek).
St. Alexander Okropiridze, bishop of Guria and Mingrelia, Georgia (1907) (Georgia).
Martyrs Artemidorus and Basil (Greek).
Martyr Leptina (Greek).
Martyr Glycon (Greek).
The Scripture Readings
Matthew 10:16-22
Persecutions Are Coming
16 "Behold, I send you out as sheep in the midst of wolves. Therefore be wise as serpents and harmless as doves. 17 But beware of men, for they will deliver you up to councils and scourge you in their synagogues. 18 You will be brought before governors and kings for My sake, as a testimony to them and to the Gentiles. 19 But when they deliver you up, do not worry about how or what you should speak. For it will be given to you in that hour what you should speak; 20 for it is not you who speak, but the Spirit of your Father who speaks in you.
21 "Now brother will deliver up brother to death, and a father his child; and children will rise up against parents and cause them to be put to death. 22 And you will be hated by all for My name's sake. But he who endures to the end will be saved.
Philippians 4:10-23
Philippian Generosity
10 But I rejoiced in the Lord greatly that now at last your care for me has flourished again; though you surely did care, but you lacked opportunity. 11 Not that I speak in regard to need, for I have learned in whatever state I am, to be content: 12 I know how to be abased, and I know how to abound. Everywhere and in all things I have learned both to be full and to be hungry, both to abound and to suffer need. 13 I can do all things through Christ who strengthens me.
14 Nevertheless you have done well that you shared in my distress. 15 Now you Philippians know also that in the beginning of the gospel, when I departed from Macedonia, no church shared with me concerning giving and receiving but you only. 16 For even in Thessalonica you sent aid once and again for my necessities. 17 Not that I seek the gift, but I seek the fruit that abounds to your account. 18 Indeed I have all and abound. I am full, having received from Epaphroditus the things sent from you, a sweet-smelling aroma, an acceptable sacrifice, well pleasing to God. 19 And my God shall supply all your need according to His riches in glory by Christ Jesus. 20 Now to our God and Father be glory forever and ever. Amen.
Greeting and Blessing
21 Greet every saint in Christ Jesus. The brethren who are with me greet you. 22 All the saints greet you, but especially those who are of Caesar's household.
23 The grace of our Lord Jesus Christ be with you all. Amen.
Luke 10:22-24
22 All things have been delivered to Me by My Father, and no one knows who the Son is except the Father, and who the Father is except the Son, and the one to whom the Son wills to reveal Him."
23 Then He turned to His disciples and said privately, "Blessed are the eyes which see the things you see; 24 for I tell you that many prophets and kings have desired to see what you see, and have not seen it, and to hear what you hear, and have not heard it."
2 Timothy 2:1-10
Be Strong in Grace
2 You therefore, my son, be strong in the grace that is in Christ Jesus. 2 And the things that you have heard from me among many witnesses, commit these to faithful men who will be able to teach others also. 3 You therefore must endure hardship as a good soldier of Jesus Christ. 4 No one engaged in warfare entangles himself with the affairs of this life, that he may please him who enlisted him as a soldier. 5 And also if anyone competes in athletics, he is not crowned unless he competes according to the rules. 6 The hardworking farmer must be first to partake of the crops. 7 Consider what I say, and may the Lord give you understanding in all things.
8 Remember that Jesus Christ, of the seed of David, was raised from the dead according to my gospel, 9 for which I suffer trouble as an evildoer, even to the point of chains; but the word of God is not chained. 10 Therefore I endure all things for the sake of the elect, that they also may obtain the salvation which is in Christ Jesus with eternal glory.
John 15:17-16:2
17 These things I command you, that you love one another.
The World's Hatred
18 "If the world hates you, you know that it hated Me before it hated you. 19 If you were of the world, the world would love its own. Yet because you are not of the world, but I chose you out of the world, therefore the world hates you. 20 Remember the word that I said to you, 'A servant is not greater than his master.' If they persecuted Me, they will also persecute you. If they kept My word, they will keep yours also. 21 But all these things they will do to you for My name's sake, because they do not know Him who sent Me. 22 If I had not come and spoken to them, they would have no sin, but now they have no excuse for their sin. 23 He who hates Me hates My Father also. 24 If I had not done among them the works which no one else did, they would have no sin; but now they have seen and also hated both Me and My Father. 25 But this happened that the word might be fulfilled which is written in their law, 'They hated Me without a cause.'
The Coming Rejection
26 "But when the Helper comes, whom I shall send to you from the Father, the Spirit of truth who proceeds from the Father, He will testify of Me. 27 And you also will bear witness, because you have been with Me from the beginning.
Jesus Warns and Comforts His Disciples
16 "These things I have spoken to you, that you should not be made to stumble. 2 They will put you out of the synagogues; yes, the time is coming that whoever kills you will think that he offers God service.
Hebrews 12:6-13
6 For whom the Lord loves He chastens,
And scourges every son whom He receives."
7 If you endure chastening, God deals with you as with sons; for what son is there whom a father does not chasten? 8 But if you are without chastening, of which all have become partakers, then you are illegitimate and not sons. 9 Furthermore, we have had human fathers who corrected us, and we paid them respect. Shall we not much more readily be in subjection to the Father of spirits and live? 10 For they indeed for a few days chastened usas seemed best to them, but He for our profit, that we may be partakers of His holiness. 11 Now no chastening seems to be joyful for the present, but painful; nevertheless, afterward it yields the peaceable fruit of righteousness to those who have been trained by it.
Renew Your Spiritual Vitality
12 Therefore strengthen the hands which hang down, and the feeble knees, 13 and make straight paths for your feet, so that what is lame may not be dislocated, but rather be healed.
Hebrews 12:25-27
Hear the Heavenly Voice
25 See that you do not refuse Him who speaks. For if they did not escape who refused Him who spoke on earth, much more shall we not escape if we turn away from Him who speaks from heaven, 26 whose voice then shook the earth; but now He has promised, saying, "Yet once more I shake not only the earth, but also heaven." 27 Now this, "Yet once more,"indicates the removal of those things that are being shaken, as of things that are made, that the things which cannot be shaken may remain.
Matthew 8:23-27
Wind and Wave Obey Jesus
23 Now when He got into a boat, His disciples followed Him. 24 And suddenly a great tempest arose on the sea, so that the boat was covered with the waves. But He was asleep. 25 Then His disciples came to Him and awoke Him, saying, "Lord, save us! We are perishing!"
26 But He said to them, "Why are you fearful, O you of little faith?" Then He arose and rebuked the winds and the sea, and there was a great calm. 27 So the men marveled, saying, "Who can this be, that even the winds and the sea obey Him?"
A Request
I am still hearing from individuals who are wondering why I am no longer writing my blog articles. Many simply do not know that it is not I who have backed away, but the people at Ancient Faith Ministries who decided to ban me. Would you please let your friends and family know that I am now hosting my own blog page. Let them know they can find me at:
abbottryphon.com
One of my monks is working on getting me a site where I can start my daily podcasts again. I'll keep you posted.